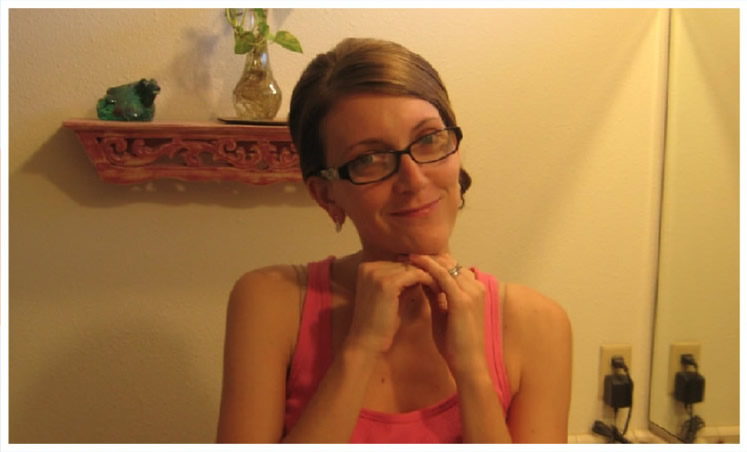 Katie's Story
Katie had a mole on the side of her right breast that had been there for as long as she could remember.   One day when putting on her bra, Katie caught the mole with her finger nail, cutting it.  As the mole tried to heal it started changing both shape and color.  Not knowing much about melanoma she didn't think anything of it but she and her husband, Mike, decided it best to get it checked by a specialist.  They saw it and encouraged to get it removed, which was done that day.  Two days later Katie got a follow up call from her doctor saying that the mole tested positive for melanoma and we needed to see an oncologist immediately.  Doctors had moved their schedules around to fit her in at 9 AM the following morning.  We were told that the melanoma was fairly deep and surgery would be the best way to fix it.  I've heard about melanoma before and pretty much thought it was something that you just cut out and moved on.  Boy was I wrong.  Katie had her first surgery in November of 2011.  It was a skin extraction and lymph node removal in her right side. She was going to have a 6 week recovery that ultimately cancelled her dream trip of traveling to London, Paris and Rome over Christmas and New Year's.  The surgery was a success and tests showed that the margins were clear and Katie was cancer free.
About a month had passed and everything was good until Katie found a lump just above her left breast.  We initially thought breast cancer, not knowing melanoma could show up in other areas than the surface of your skin.  We immediately got it biopsied and it tested positive for melanoma.  We thought we were clear of this.  We scheduled a second surgery and went through the same thing, just with a shorter recovery period.  Tests after the second surgery showed no signs of cancer and again, we allowed ourselves to exhale.
Fast forward to May, 2012 and Katie was doing an at home skin check.  She would check her moles, make notes and feel her skin for lumps that weren't on the surface.  This is when she found another lump that showed up in her groin area on her right side.  Again, surgery to remove the skin and lymph nodes was necessary to fix this, so, we had surgery number 3.  This surgery required a drain be attached to her at all times to avoid lymphadema and give a release for the fluids in her body.  The follow up for this surgery is where things took a different turn.  The surgery was successful, but there was now a mass in her lung that, after being biopsied, was confirmed as melanoma.  Surgery was not an option for this one.
We were referred to a team of doctors in Tucson, AZ.  Tucson is a little over 100 miles from our home in Phoenix, AZ.  When in Tucson we were introduced to two different treatment options.; Ippilumimab (Ippy) or Interferon.  The drugs were involved in a trial where Interferon was an FDA approved option and Ippy was a promising new drug for melanoma.  We signed up for the trial hoping we'd receive the Ippy as we were randomly placed in one of the two groups.  We got the Ippy and we were very excited!  We would travel to Tucson twice a month for follow ups and treatments.  After three doses of the Ippy, there was no progress and it was decided that being taken off the trial was in our best interest.  The cancer was growing and another route had to be taken.
We decided to get multiple opinions on what our options were.  We met with several different teams of doctors and decided that working with a team in Scottsdale was our best option.  There was a trial in Los Angeles for a drug called Anti-PD1, but we didn't qualify for the trial just yet.  So, rather than waiting for trial and allowing the cancer to grow, we decided to start a treatment called Vemurafenib (Zelboraf).  The analogy that we got was her cancer was a wildfire and rather than trying to put it out, we had to contain it first.  Zelboraf would only work temporarily (hopefully 6-8 months, if not longer) but when it stopped working the cancer would be smaller, more controllable and we would then go to L.A. for the trial should we qualify.  She started Zelboraf while on vacation in Seattle in August and the first follow up was good news.  Things were shrinking.  The second follow up showed undesirable news and it proved that the Zelboraf only worked for 4 months.  It was now time to get to L.A. and start the trial.
We were prepared to start the trial on January 28.  On January 23, Katie called me with complaints of being scatter brained, had a headache, slurred speech and numbness in her right arm.  I thought she was having a stroke.  I rushed her to the hospital and after several tests, scans, etc. they found that the cancer had spread to her brain.  This was devastating as it was the one thing Katie didn't want.  The brain metastases disqualified her from the trial in L.A., found her almost paralyzed in the right arm and very discouraged.  Physical therapy brought full function back to her arm/hand.  Ten doses of radiation kept the brain growth under control.  The next treatment option was chemotherapy which was a regiment of Taxol and Carboplatin.   Prior to starting chemo there was another area affected by the cancer, her liver.  This was very small and the first dose of chemo was expected to knock this out.  The first treatment was on February 28.  On March 4, the day prior to the second treatment, tests and blood work showed no concerns of this not working and things seemed to start to shrink and improve.  March 5 was the second treatment.  On March 7 we found ourselves in the hospital again with extreme side pains, to the point that Katie could not stand.  The cancer in the liver had grown significantly in the short period of time where it had spread to the entire organ, swelling up and putting pressure on Katie's ribs and lungs.  They gave her pain meds and she was relegated to the sofa/bed in hopes that the swelling would go down.
Our final treatment was scheduled for March 26, but on March 19 Katie complained of excruciating pain and we returned to the ER.  Doctors tried to control everything and figure out what a plan of attack would be, but there was none.  We brought Katie home on March 21 and in the care of hospice created an environment to make her comfortable.  Friends and family came from all over to show their support.  At one point there were more than 70 people in our backyard.  We played music, put on her favorite shows and movies and spent her last days sharing stories and providing as much love and support as we could.  Katie passed away at 2:44PM on Sunday, March 24.  Her battle with melanoma was over.  Most would say that she lost the battle, and perhaps in the physical definition, they are right.  However, Katie's Wish was that this never happen to anyone else.  She didn't care it if was friends, family, strangers or enemies… she wanted to help raise awareness and prevent anyone else from going through what she went through.  That's what we will continue to do through Katie's Wish.  We will grant this wish, raise awareness and save lives.
Katie's Childhood
Kathleen Marie Henderson was born on July 3, 1985.  The first child to her parents, Ross and Nancy.  Katie was instantly addicted to smiling, laughing and outbursts of excitement and joy.  She was raised in Santee, CA and would live in the same house for her entire child hood.  In high school Katie used soccer as an outlet of coming out of her shell.  She loved being on the field and spending time with her team.
After high school Katie started working at a local steakhouse.  She started there in November of 2004 and met Mike the first day of work.  Mike was her trainer.  Legend has it that the day she met him, she went home to her parents and said, "I met the man I'm going to marry."  She knew a lot more at that time than any of us gave her credit for.  Mike and Katie would start their relationship by spending time in mostly group settings.  They'd go to movies, play lots of board games and just spend time together mostly at Mike's house.  They didn't even give credit to the fact they were getting serious until a friend called them out.  Their relationship built very naturally and without conflict or awkwardness.
In September of 2007, Mike got a job offer with the Arizona Diamondbacks that would require him leaving California and moving to Phoenix.  Katie agreed to make the move along with him without hesitation.  They were quickly engaged and then married in San Diego on August 8, 2009 with approximately 200 of their closest friends and family along their side.
Mike and Katie would build a beautiful life together in Arizona.  She graduated with her Bachelor's Degree in Management from University of Phoenix and started a career in their admissions department.  They purchased a home in Phoenix and built their life together.  They loved to travel and had plans to see the world.  They had taken trips to New York City, Washington DC, Seattle, and Dallas in an attempt to at least see the country.
Katie's biggest passion was friends and family.  Holidays were her favorite time of year, especially Christmas.  When in the presence of her loved ones, Katie shined.  She was a simple person who enjoyed dressing comfortably, spending time with her husband and taking care of others.  She did that until the day she passed and with Katie's Wish she will continue to do the same.
Katie is survived by her husband Mike, parents Ross and Nancy Henderson, sister and brother in law Sarah and Brandon Battaglia, nephew Bradley Battaglia… and her Little Man, Baxter (the dog).